My thumb is as green as my attention span is long. What does that mean? There's not even a hint of green on my thumb. Fortunately, that doesn't stop me from trying. Each winter when the first seed catalog arrives, my hopes are renewed, my enthusiasm recharged, and my garden plans ridiculous.
I'll order. I'll plant. I'll even water - for a while. Then I'll spend the rest of the growing season feeling guilty about my dying, weed-encroached garden.
Then January will arrive, and the process will start all over again.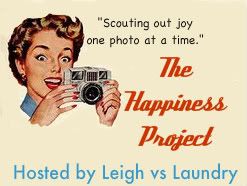 What makes you happy today?