Leigh was a featured SITS blogger the other day and I decided that her blog was worth a return visit. Why?

First, her name. Don't you just love the name Leigh? If I hadn't once pretended to change my name to Elisabeth, I might have considered pretending to rename myself Leigh. If I ever have a daughter-in-law, I'm going to name her Leigh.

Secondly, she knows how to make those little link buttons that I spent all week-end trying to make and couldn't.

Thirdly, she's happy. Today Leigh begins a new weekly theme: it features pix of things that make us happy. Isn't that a lovely meme for Tuesdays?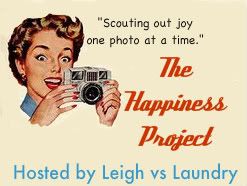 So what makes me happy? After a long, gray Detroit winter (did I ever tell you that Detroit is the third gloomiest city in our country?), the sun came back!! And, baby, when the sun is out, even the pain of spending $500 between the orthodontist and the eye doctor seems tolerable.



Welcome back, Mr. Sun!